Designers are trend-spotters. By the time you see a home décor trend you like emerging on Pinterest, we might be kind of over it. It's our job to be ahead of the design trends so that your investment in your home or business works for you as long as possible before you want to or need to change it.
Our team has assembled so many great design and furniture trends to share with you!
KARA:
High Country: A play on Modern Farmhouse, this home styling trend mixes rustic and glamour. Think: "The Sex in the City gals go to Castor, Alberta!"
Navy and other jewel tones. I still love my white walls but can't wait to accent with navy and jade green, specifically Benjamin Moore 2061-10 Deep Royal and Benjamin Moore 2040-30 Very Green.
RYAN:
Brick seems to be making a comeback, tying in with the Modern Farm house mentioned in Kara's comments, this material could evoke memories of brick homes from the past. The insurgence of the thin masonry veneer will see brick presenting itself in a more economical form and provide both traditional finishes as well as ones that present a more modern aesthetic.
Simplicity in design concepts and materials, addressing not only how a space or structure looks but also how it feels and functions. Rising housing costs could push home designs toward more compact concepts that better utilize multi-functional spaces.
Smart home technology: The evolution in smart home technology and sustainable solutions are becoming more popular making these technologies more affordable—which is fortuitous when rising utility costs make these technologies more desirable.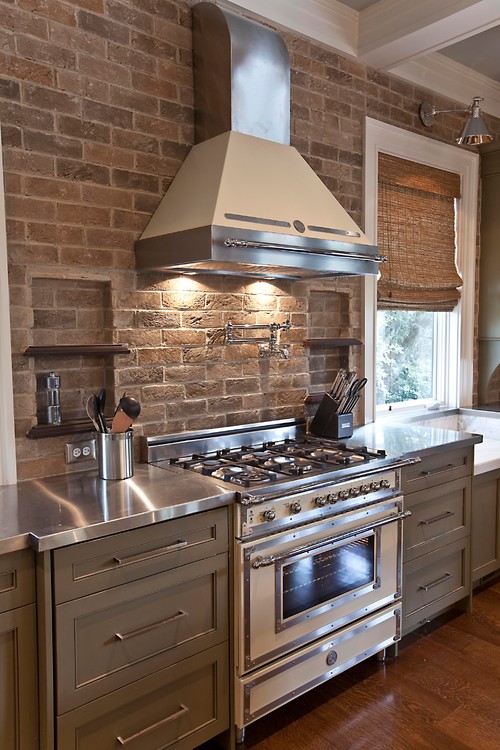 AMY:
High contrast: Lots of white and black. For example, white walls with black interior windows and accents, black plumbing fixtures, matte black lower millwork with white uppers in a kitchen, etc.
Matte finishes. I am loving solid colour, flat slab matte millwork. I still love high gloss, but I think matte textures are on the rise. Also matte appliances!
Artisan-made items have been popular in accessories for a while but we'll see more handcrafted high quality furniture, too.
[Source.]
AMBER:
Navy is going to be used more and more. Companies are coming out with navy cabinetry and even countertops. It is a nice change to black as it is still dark but richer in colour.
Matte cabinetry is a kitchen design trend that will be in for 2017. Whether a beautiful matte white, or even black, you are going to see a lot more of it coming up. I can't wait to design a matte black kitchen.
Patterns can be used in all scopes of design. One of my favourite is the chevron pattern—similar to herringbone— which can be used in flooring or wall tile. It can create interest without going wild with colour.

[Source.]
SILENE:
Random/organic tile transitions makes the flooring the focal point for a change by adding some textural/graphic interest! No need for a rug to spice things up.
The 'new' slipper chair – Nice, sleek reinvention of the classic slipper chair. The squat tapered legs lend a modern look to a classic style of furniture. Comfortable and stylish!
Dark/Charcoal finishes with rose gold/copper/metallic accents (hardware, lighting, furniture) – We love the new take on metallic finishes! The rose gold/bronze really warms up the darker charcoal finishes, creating a satisfying juxtaposition.
[Slipper chair by Jonathan Adler]
BRITTNEY:
Interesting colour combinations

Patterned tile

Herringbone floors
[Image credit: Kalb Lempereur]
KATIE:
Navy is the new black. Accent a room or update your kitchen cabinets.
Omit upper cabinets in the kitchen for a open shelving. Display your pretty glassware & dishes. Let your backsplash tile shine. Bonus: It's budget-friendly!
Iridescent furniture design. Effect of colours gradation created when light strikes transparent surfaces.
1970's hanging basket chairs in/outside the home. Using vintage outdoor furniture inside the home.
CRYSTAL:
Zero-threshold walkways or near-stepless entrances. Not just for the elderly!
Transom windows add light (a high commodity) and add character to the design. The play on light patterns into the space are endless. They also add luxury above regular windows and doors, instead of the pricy large sheets of glass.
Large foyers and equally large front entrance to match, warm natural wood doors instead of painting the door.
SARAH:
Matte cabinetry replacing high gloss, especially black cabinets.
Escapism: Homes with areas to relax and revive. Relaxed furniture, deep, oversized sofas in linen fabrics.
Jewel tones, as Kara noted, especially dark greens and navy blues.

[Richard Clarkson nest chair]
SPIRIT:
Transitional flooring

Rose gold copper

Black bathroom fixtures
For more examples of these design and decorating trends, see our 2017 design trends Pinterest page full of curated examples of these trends and be sure to follow us there!